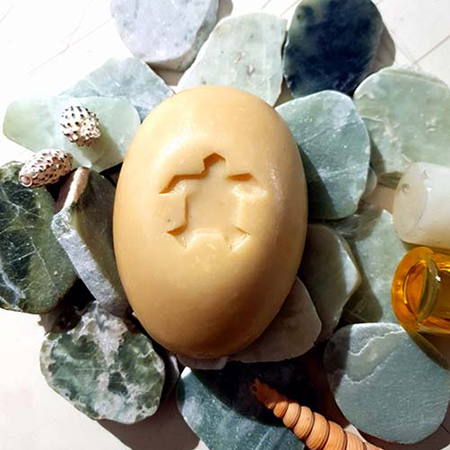 Spirulina soap SAPO SAPO
7 August 2020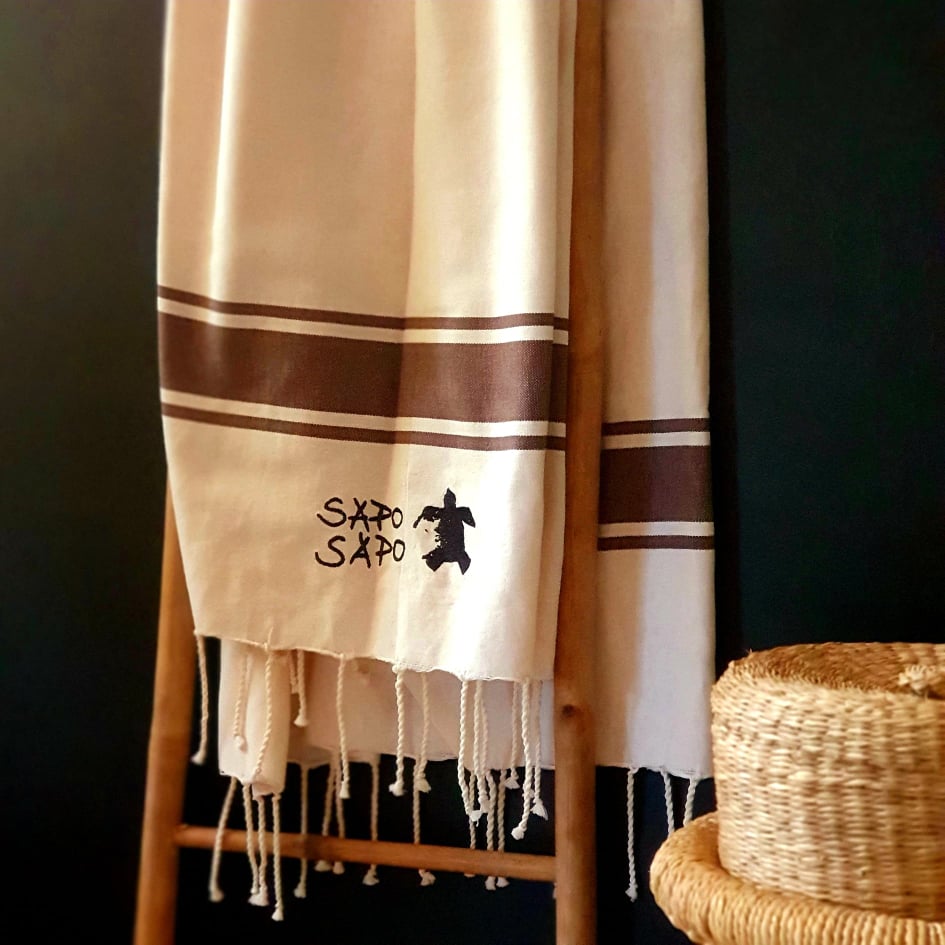 Fouta Kuriatecru
27 October 2020
Mango soap
SAPO SAPO
Toning Soap
Normal Skin and Hair
The whole family
7,50€ - Poids : +/- 4.05oz
En production

Victime de son succès
☼ Ayurvedic par excellence, 100% fruit pulp for an ultra mild soap, ultra moisturizing, tropical! it is suitable for the whole family, in daily use, for all types of skin and more particularly Normal. The antioxidant mango, toning, nourishing, it restores radiance to the skin and hair. Two vegetable oils 100% natural without GMO: Corn oil deeply nourishes the skin, soothing, soft and antioxidant, and helps keep water in the hair fiber. Coconut oil nourishes the skins, tones, restores radiance, and nourishes the hair fiber in depth.
☼ Zero palm oil, zero essential oils, zero perfume, zero dye, 100% Biodiversity to respect the most demanding skins and hair. The preparation is mixed energetically by the soapmaker, before being poured and molded. Prepared at low temperatures to retain the properties of natural ingredients, chosen and which are adapted to your type of skin and hair. Always by hand, each soap is unmolded and stamped. Finally, the soaps undergo a slow drying of several weeks.
☼ Cold saponification is a guarantee of quality and ecology: this manufacture, does not cause any release into the environment and generates naturally glycerin soaps. Glycerin appears during saponification, it is one of the best components to moisturize the skin and hair. Cold saponified soaps are also surgras: this percentage of oil in addition also protects and moisturizes the epidermis and hair fiber. Our soaps will never leave you with dry skin and hair!
☼ A soap of today for a daily need: born from an innovative cosmetic formulation, based on corn oil, allows both the use of soap for the toilet of the body but also the facial care, the care of the hair in shampoo, the assembly of a shaving foam by hand, man / woman, and a soft make-up remover → all in our Mango soap. A unique moisturizing solution, born from the desire to go to the essentials for our well-being.
Ingredients aponified oils of maize, coconut, mango puree, glycerin. (glycerin, a natural moisturizing agent that appears during saponification, not added). INCI: sodium cornate, sodium hydrogenated cocoate, mangifera indica fruit extract, glycerin.
Ergonomic 10 x 7 x 2.5 cm – Print Turtle numbered SAPO SAPO.
Cold soap ages well, just keep it dry and let it dry well between 2uses and that it doesnot soften.
AS BASIC SHAVING : basic shave with a blade in the shower, for legs, armpits, swimsuit, beard. Make the place foam well and cut in the direction of hair growth. Rinse. Dry. Man and woman.
….FOR THE BODY AND FACE (toilet soap)
Use the dish (depending on the shape) of the soap directly on the face and body, wet beforehand, OR lather the soap in the hands and wash as usual. Avoid toilet gloves, or other display support of the product, these are germ nests, even if the soap is by nature bactericidal (which kills microbes).
A soap is not a mask, there is no long time to lay, it immediately rinses with clear water.
When you dry, a peltle settles on your skin, no need to remove it with the towel, it's just natural glycerin, moisturizing agent that settles and that will be absorbed by the skin.
... AS A SHAMPOO : wet the hair, use the dish (depending on the shape) of the soap directly on the scalp, foaming on the way to the tips, rinse the roots well.
For a natural detangling:
- Apply an appropriate oil to your hair type and leave for 30 minutes. Then proceed to usual shampoo (2 rinses). A usual shampoo that you will renew 2 to 3 times to eliminate excess fat, the hair remains hydrated.
- Appropriate oil or coconut milk and leave for 20 to 30 minutes depending on the condition of the hair. Use oat milk as a detangler after your shampoo.
WARNING: This soap has been made for a natural hair that has not undergone any treatment (permanent, straightening, chemical coloring or plant-based coloring), it is not recommended for permanent, relaxed and/or colored hair.
INFOS: Ultra-thin powders cause no discomfort in shampoos, they leave no residue (clays, turmeric), on the hair and scalp. Also leaves no greasy film on the scalp and lengths.
Not recommended for treated hair (coloration, perm, straightening).

Avoid the eyes and mucous membranes, like any soap!
A soap rinses with clear water!
Sapo sapo soaps are suitable for extreme climates.
A DAILY ACTION FOR OUR PLANET AND OUR HEALTH.