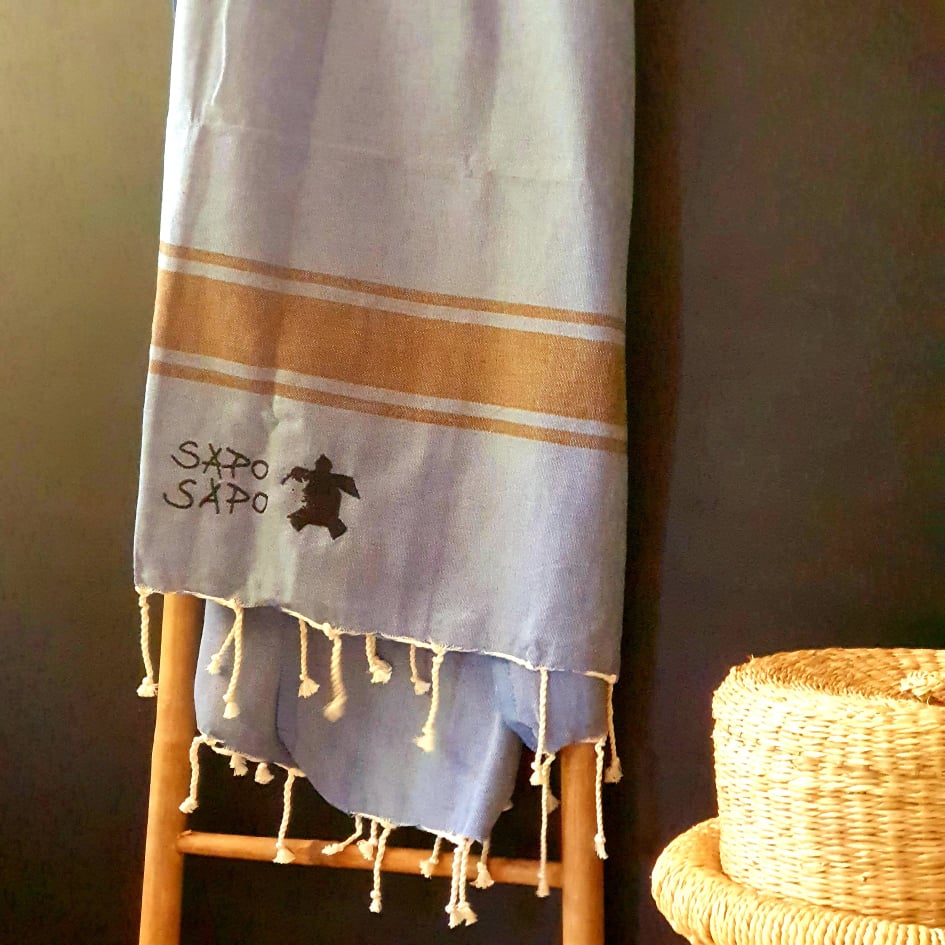 Fouta Bundabergblue jean
16 November 2020
Fouta Palm Beachanthracite
16 November 2020
Fouta Moya

turquoise
100% cotton flat weave
78.74 inches x 39.37 inches
14,10oz
Fast drying
Tunisia Martinique
34,00€ - Poids :
En production

Victime de son succès
☼ Traditionally used in North Africa, used in hammams Sauna Light Beach Towel Men Women Children 100% Cotton of High Quality, it offers incomparable comfort, a know-how that deserves to be recognized.
☼Characteristics of the Sapo Sapo fouta: A straightforward beige or brown band that accompanies the 10 colors of foutas A black cotton embroidery with the effigy of Sapo Sapo
☼ SAPO SAPO is a brand committed to saving endangered species: the turtle … Each towel therefore bears the name of a turtle nesting beach in the world.
☼100% MOST ABSORBENT AND FLEXIBLE COTTON. Authentically woven (by hand) on traditional looms in Tunisia. This special cotton weave ensures maximum absorption.
☼ Treat your fouta with love: read the washing and maintenance recommendations indicated on the product.
☼ LIGHTWEIGHT AND QUICK DRYING. This fouta (or hammam towel) weighs only a third of a classic terry towel but has the same dimensions and the same absorption capacity. It is really compact and fits in any luggage. Once wet, the fouta dries up in no time. It owes this to its specific cotton weaving.
☼ PRACTICAL AND VERSATILE: The fouta xl or hammam sheet (Turkish towels) can be used as a bath, beach and sauna towel with all the different ways of wearing it, on the shoulders in the evening or cool morning … Perfect for backpacking trips. But also in sarong, sarong, tablecloth, picnic blanket, plaid, wall / floor mat … and many more. It is your ideal travel companion. Once you've used a fouta, you won't be able to use anything else!